Catspaw Property Owners Association Annual Meeting 2022
Saturday, October 15, 2022
10:00-12:00 (arrive at 9:30 for registration/coffee/donuts)
Cashiers/Glenville Recreation Center 355 Frank Allen Road, Cashiers (Directions)
(Also available on Zoom, details to follow)





Catspaw is a community of 373 acres that rise to 4935 ft on Little Hogback Mountain in the Western Carolina Mountains with 4.45 miles of maintained gravel roads. Our rural subdivision is located about 13 miles from Franklin and 12 miles from Cashiers. Currently there are 19 homes nestled among the forests with tremendous long range views of mountain ranges including the Smoky Mountain National Park.  Wild flame azaleas, rhododendron and wildflowers abound with an array of birds and even an occasional bear, deer, red fox or turkey.


Meet Your Board Members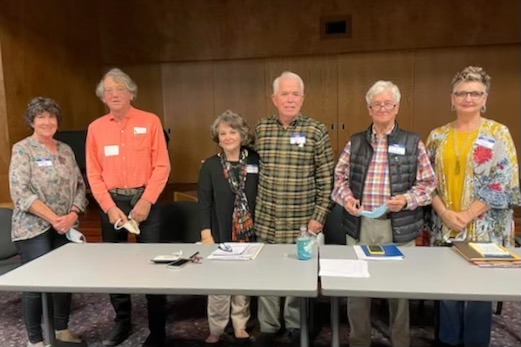 Left to right: Mary Ann Ziegler-Secretary, Jack Lurie-Roads Chairman, Anne Aderhold-Treasurer, Frank Lee-President, Billy Dasher-Vice President, Cheryl Harris-Communications Chairperson (not pictured Glenn Farrow-Governance Chairperson) 




If you are a property owner, please REGISTER for this website to benefit from the additional resources and communication tools available to you. Click on <Register> in the upper right hand corner to complete the signup.  This will allow you to communicate with the Executive Board and other homeowners and the board can communicate with you.  Member only areas do not display unless registered.  If you have pictures to share, you can contribute them via email to our communications chairperson, Cheryl Harris. 

Note:  Bears and deer seem to have taken up full time residence in Catspaw. Be alert for them at all times.